Browsing Category: "Health and Home"
I wasn't feeling well these past few weeks, I have indigestion and acidity to deal with, painful upper back and hips and then these past few days I felt a discomfort on my left foot and since yesterday my knee hurts like it was dislocated.
My mother told me that I drink too much coffee that's why my hips is painful, she encourage me to drink a herbal coffee, I have been drinking it for sometime but I got tired of the taste of it so I switched back to 3n1 coffee and since a few days ago I drink the herbal coffee again but the pain didn't still go away. I guess, it is already sign of aging, the perks of getting old.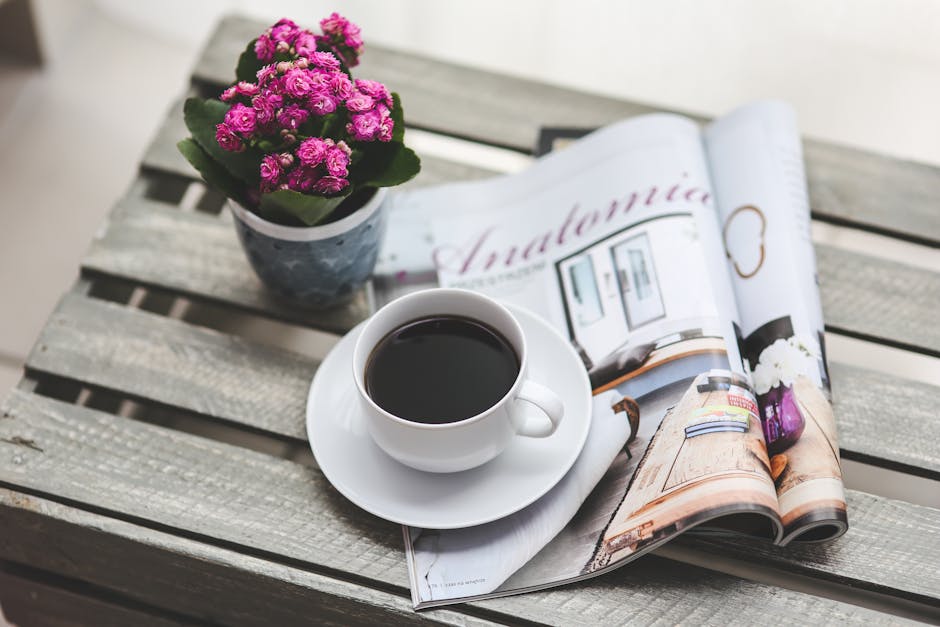 [Photo courtesy of Kaboompics // Karolina/pexels.com]
Early this morning I did cold compress into my left foot, it was very painful but to no avail my foot didn't feel any better, my knee hurts even more especially when I stand up from sitting.
Anyway,  I have feed my cats and dogs at lunch and I accidentally slid with my left foot (like someone push me) while carrying their food, I have already thought of getting a broken bones but surprisingly my foot got better, it fixes my foot and knee, the discomfort was gone and my knee didn't feel that painful anymore. I have wonder how did I slid but I didn't think much of it anymore, I am just thankful that it made my foot and knee better.
My back still hurting though, I don't know if it is because of acidity. I was washing the dishes when I tried to burped and puked many times, when I did I tasted acidity in my mouth. I am feeling anxious about my upper back pain because I inhaled a lot of muriatic acid fumes almost a week ago when I cleaned our bathroom and living room. Morbid thoughts about my lungs is disturbing me, huhuhu.
About a month ago I was infected and sick with chikungunya virus, a viral disease transmitted to humans by infected mosquitoes. It hits me by surprised because it wasn't viral yet in our village and I didn't hear any one had it, in neighboring village yes but to ours none.
I have visited a herb doctor thinking I was bewitched by unknown being, I felt better after doing so but the next day, upon waking up I can't get up, my legs and my knees are very painful.  I was in severe pain and feverish as well, my family doesn't believe me, I guess they are thinking I am making up things. It was a very hard for me to get up and dragged myself to the bathroom, I can't get up without crawling and looking for something to hold on to.  I have told my family that I have chikungunya virus but they insisted I am only brewing a flu. My sister even get angry when I keep insisting that I have the mosquito virus, I think they can't accept the truth that I am sick.  I have never been sick this grave so I guess they have the perception that I am made of steel so they are on denial that I am indeed sick because at first, they wanted me to get up and do things like I usually do.
They knew that I never failed to attend church during Sunday so things sink in to them that I am really sick especially when I show them the rash that are developing, my mother even says they looks like measles rash. Anyway, I have asked my sister to buy paracetamol tablet for me I took it after they force me to eat lunch.
Chikungunya Virus Infection Symptoms & Treatment
Symptoms of Chikungunya usually begin 3–7 days after being bitten by an infected mosquito and below are some of the symptoms when you have the virus –
The most common symptoms are fever and joint pain.
Other symptoms may include headache, muscle pain, joint swelling, or rash.
Chikungunya disease does not often result in death, but the symptoms can be severe and disabling.
When I took paracetamol my fever subsided but the pain in my feet and wrist still there so I research more about the virus and I have found out that there is no vaccine to prevent or medicine to treat chikungunya virus. All you can do is rest well, drink plenty of fluid and take paracetamol to reduce fever and pain.
The pain is really disabling, it feels like you just had a stroke. I experienced a lot of pain on my right leg and knee, I read somewhere that when you are sick with chikungunya virus it will ache a lot in the part of your body you had an injury, my right leg was hit by a motorbike in Jeju while crossing the street so imagine my horror when I can't walked and felt a severe pain on my right leg, I got so anxious and almost got panic thinking my feet will be cut.
On the second day of getting the mosquito virus my skin was quite dark, bit feverish and feet, legs, knees and wrist is still painful but I can move a bit.  I heard my younger aunt asked my mother if I am already well and what is my sickness because an older cousin has it too, he has red rashes all over his body but no fever.
On the next following days I was covered by red rashes that looks like minor burns and on the sixth day the rashes became worst  and when I was accidentally got wet by drizzling rain I felt itchy so I thought the rain drops were just so dirty so I took a bath and there I itched even more, I have thought again the water in our bathroom is dirty because it was so itchy that I don't know which part of my body should I scratched first, and there I found I have rashes all over me.  I dry myself immediately and pour lotion into my body and uses the ointment I have bought online for treating allergies, the itchiness wasn't that severe anymore.
My fever was gone after 2-3 days by taking paracetamol tablets, the pain didn't disappear right away.  When I wake up in the morning my joints felt so painful, even until today.
You know what is ironic? My mother who keep insisting I only have flu also got the chikungunya virus the after two days I had it, it was terrible when she had it because she suffered stroke a year ago and she was disabled for a day that my father didn't go to work so he can carry her.
Anyway, when I was a bit well and can go out I have found that an older cousin was sick too before us but they didn't know it was chikungunya because they just said he has a high fever, and less than a week after, another older cousin had it, I thought he didn't suffer a fever but he did actually before me.
Maybe if  we only knew that a cousin in the neighborhood had chikungunya infection we are able to do some prevention not to be infected as well.
There is a day I don't feel well, either I have headache or my hands and legs get swollen.  There are times to my blood pressure isn't normal especially my diastolic pressure. It was been long that I was urge by my mother to get a medical test to check if  there is something wrong with my health, it was also advised by the village nurse so when my father had his medical tests done I did too.
My blood test was normal, my sugar and uric wasn't high, my kidney is healthy but my urinalysis isn't good I have a urinary tract infection I guess from holding on to my pee at night was too lazy to get up and use the bathroom,  or is from eating dirty food?  I love eating street foods if you may ask. The doctor prescribed a three day antibiotic for me to take which made me to drink too often, I don't drink that much before because it is burdensome to always use the bathroom.
[Waiting for the doctor to arrive, the clinic was too small you can literally hear why the patient see a doctor]
Anyway, since my kidney test is good. There was nothing wrong with me I just need to reduce my salt intake because it turns out too much sodium in the body can cause swelling and can cause the heart to work harder I guess that's why my diastolic pressure is higher than normal, and why I am suffering from frequent headache. I have found out that overtime increase of sodium intake can put too much stress into the heart which can lead to stroke or heart failure.
If our body has quota for sodium levels, I think my body had reached its quota. I have been eating unhealthy food for many years with J, like pizza, fried chicken, salty chips and instant noodles then when I went home I did the same, eating salty foods like instant noodles, salty chips and peanuts. Instant noodles are cheap and easy to prepare so it is the easiest way for me to fill my empty stomach when hungry.
Many parents says raising a child is hard but for me raising a parent is harder. No matter how many times you told your mother that she is not allowed to eat this and that, and not to do this and that. It is to no avail she will eat and do what she want so yesterday she fell and slid in our stairs. Good thing she didn't hit her head and broke only a toe nails and since my father brought the first-aid kit to work I practically chew young moringa leaves so I could stop the bleeding in her feet.
So this is what I got on my shopping bag last night, petroleum jelly to treat minor burns, antibacterial ointment for cuts and wounds, pau liniment for muscle and back pains (she need to get a massage now since she is complaining of sore body), betadine to treat fresh wounds, basically they are all for first aid. There goes a part of my funds for Saturday, I am planning to visit a diagnostic center on the weekend to have a medical check-up eh but I guess my health can wait.
💉
Oh well, my sister told our mother to be careful and not to let me jump out of my chair again, because I might die first before her due to high blood or shock on seeing her doing gymnast moves in the stairs.
Good thing my blood pressure is normal these days, thanks to regular intake of pineapple juice.
🍍