Browsing Category: "Home and Fitness"
Aging is a natural part of life for both men and women, but that doesn't mean it's always pleasant. That's why today there are a lot of anti-aging creams and supplements in the market. Yes, age is just a number but there are times I am thinking what would my life will be when my age is already out of the calendar. Anyway, one of the young sales lady who's maybe in her 20's asked what's my eye grade when we went to town not a long ago, I was wearing an eye glasses that time and then it came to the age thingy. She mistaken me younger than my age and she genuinely thought my younger sister was my older sister which made everyone laughed, my sister blurted how old is she going to be if I was mistaken to be in my early 20's when I am almost 30's. My sister felt slighted because it wasn't the first time she is mistaken to be older than me, the worst once she was mistaken to be a married woman with a child when she is still single and five years younger than me. My mother told her many times to lose weight and put her hair back to black but it looks like losing weight is very hard for her since she ate a lot.
To be mistaken younger than my sister once is a mistake but to be mistaken younger many times  I guess that's already a fact (lol). Yes, it isn't the first time that I was mistaken younger than my age and to my sister and what happened today gives me hope that I am not too old yet and age is just a number.
Honestly, I have been looking in the mirror sometimes looking how I age and trying to figure out how I am going to look younger because I already felt very old. Besides from being mistaken younger on my age, some people will always take notice my simplicity especially my older cousins. They sometimes wondered why I don't dress so well and why I am not so vain like other women especially they know that other women who were married to power ranger dressed well and adorned their selves with jewelries from head to foot and paint their face with colorful makeups. Well, I told them it isn't me and  I am different but lately I am considering a change while I am still younger rather than do a change when I am already in my 50's, right?
It was almost two months since we moved in Shinha-ri from Icheon downtown and it was been two months since we are working out in this new gym.  Yeah, right before we moved here we surely check if there's a  gym nearby so when our membership ended on Life Change gym we didn't renew anymore, it was good too because when the new owner told us that there is no gym in Shinha-ri we know that there's one.
You heard it right, Life Change has new owner since last year when we returned from vacation on Chuseok the gym has new owner already, we said it has a new owner not just because of the new guy but also because all of those plants you can see in the gym adorned by colorful sash. Probably the old owner sold the gym.
Anyway  we signed up for six months membership in M2 Gym in Shinha-ri, the first week is life changing I mean we are still looking for the comfort of Life Change, the familiar faces and working equipments.  We worked out in Life Change for almost three years and surely we established a bond with the equipments, haha joke!
M2 Gym is just few steps away from our apartment building which make it convenient for us, I would say they have more equipment but they only have few heavy plates, and most of their gym equipment are older than those in Life Change.  The good thing is M2 gym has a separate rooms for aerobic class if you want to attend one unlike in Life Change there's none but they have small space for fitness enthusiast to do the stretching and etc.,
I have decided to wash my winter jacket the other day because it was been a long time since I washed it and  it is quite dirty already since I took it with me when we travel outside Korea.
When my husband and I will have a short walk he left me at home and told me to follow because I am busy tinkering something in front of my laptop so when I am done with it I immediately run to our closet to look for my jacket, yeah right I forgot that I just washed it that day. Thinking my husband will be angry if I didn't follow him I just wore my normal sweater and long pants and run so I can tag along with him beyond the cold weather. As I know it is impossible to catch him I took a short cut and I am able to see him after a long run, the coldness I felt was gone.
My husband laugh at me when he saw me as I am panting very hard, and even tell me why I follow when I have no winter jacket to wear. Well if I just knew he won't be angry probably I will stay at home. And I think winter jacket is not need anymore as I didn't feel cold after running like crazy.
We are working out in the gym 4 days a week and we are member of Life Change gym for almost three years now. When we first arrived here in Icheon there's only one gym and this is Life Change but since this year 2012 two more new gym recently opened the first one is the RAON Fitness located in RAON palace which is just few meters away from the bus terminal and the second one is M Kick and Fitness which is just a distance from Life Change it is located in the 5th floor of Home Depot.
Life Change has a lot of trainer when we first enrolled for membership it has four or five but today the gym owner is the only one left. We've seen one of the old trainer in RAON Fitness dunno where the other went.
Originally posted on ficklemindedthoughts.com 2012-05-18 17:24:49
Early this evening we went to gym for our work-out schedule, when we reached the second floor we smell a strong chemical and the two restaurants are closed. When we reached the third floor where the gym is located the door is open but it is very silent, when we came inside the gym is empty nobody is working out.
We found in the information that gym is closed because of the strong smell, the lady owner told us that there's fire yesterday at one of the restaurant in the second floor, she apologized but we said no need because we understand. So no choice we left after asking  when will the gym will be open again, she said after two days.
We tried to peep inside the closed restaurant if how big is the damage but we can't see it, we are in that situation when the guy owner of the gym found us, we greeted each other and asked if we are looking at the right restaurant.
Anyway I don't know what to say but having fire in the building already crossed on my mind, it is not the first time that something crossed on my mind and it happens.
Yesterday is Chuseok here in Korea,  a major harvest festival and a three-day holiday in Korea celebrated on the 15th day of the 8th month of the lunar calendar so most of the establishment are closed aside from the 24 hours convenient store. Instead of feasting with food I am starving for food because of the juice fasting.
Anyway my husband and I decided to take a short walk to energize and let our blood circulate, the more we walk the more hungry I felt seeing food stores and restaurant.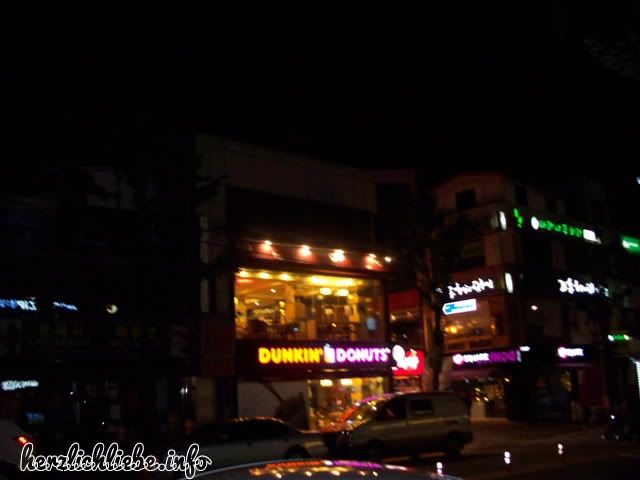 Dunkin Donuts is among one of the open store which I am surprised because before the donut shop is already closed at ten o'clock in the evening but as of last night it is quite full. Most of the people I've seen walking around is family., maybe they're visiting their parents and grandparents. I have seen a mother and her daughter walking, I have thought the child has a white puppy with her on leashed but when I look carefully she has no white puppy with her. Did I just see a white puppy ghost?
We arrived yesterday and a rainy day welcomed us when our plane landed on the run way.  After three hour bus ride we finally reached home, the first thing I did was to work with water filter to make sure we have water to drink then cooked rice, do the laundry and cooked the chicken.
I am little worried last night because Pookie bear is not feeling well, he throw  up early this morning dunno I guess his stomach gets upset upon eating three quarter pound burger from McDonalds, and ice cream as well, despite of feeling sick he needs to go to school to teach, he won't like eating anything even I told him to drink hot water or coffee as we are out of milk and didn't shop yet since we arrived. I wonder why didn't I take those online nursing classes or get that online nutrition degree  so he would believed me,   he always thought that my findings and inputs when he feels sick are ridiculous.
Well he ate a little a while ago he said his stomach don't upset him anymore but he feels very tired and feel some body pain which I felt too, maybe carrying a big heavy back pack for me. What I noticed is I can't eat the same food I ate anymore before we left dunno if I am just use having fresh salad on my plate or my stomach feels so tired eating meat. I also wake up early in the morning today which disturbs me because I don't usually do it, anyway Pookie bear says he won't eat McDonald's again because it makes him sick, like what I experienced when I ate burger. I've missed a lot of things online, my inbox is full of spams especially my blogs. So it would take time before I segregate valid emails from friends as too busy to do marathon reading on what is happening, news reading.
Somehow a thread caught my attention about DTI permits for bloggers I am so confused about it as I am just away for more than one week and there's already thing like that,  as I believed you don't need DTI permits if you are just giving away small stuff without sponsors, does the raffle during Christmas party has DTI permit too? I mean small giveaway among group of people not those raffle contest that you need to purchase tickets to be enable to win.
Anyway didn't read the DTI rules so I am out of it (lol) plus  I am not in the Philippines and  I seldom or I hosted only one giveaway, so I guess I'll just wait and see on what will happened, if it is really needed or not by small time syndicate errr bloggers.
I am not around with these blog yesterday, I just don't feel like blogging anything my lazy mind strikes again. Oh well we sleep five o'clock in the morning today and I wake up at two o'clock in the afternoon, I did not sleep well though I keep waking up and coughing there's one time too I wake up with my noises, yes dreaming again I cannot remember what is it all about.  While typing this I have not eaten my breakfast yet maybe later, it is holiday on Monday here so if the weather is good we are going to hike again.
[Photo courtesy of Pexels/pixabay.com]
I hope I am going to feel better on Monday because I feel so week yesterday and he even feel angry many times to me for not paying attention spotting him in the gym. Darn it is too hot inside the gym I thought I am going to have a heat stroke, I wonder why they did not run the aircon and just the two big fan maybe saving electricity. Oh well there's more foreigners in the gym not like before just the two us, there's around 6 excluding us but I seldom see them now lately. We have no plans for today just be busy in front of the computer again, surfing, blogging, hopping and watching movie.
Oh well it's Thursday today, day for nostalgic past. I really have nothing to be nostalgic I mean no specific photo, as I am always forgetful I am in kind of feeling of devastation, hatred to myself and etc., guess what? Well it is still nostalgic because while digging into my photos something reminds me to check.
I have mention many times I am have been busy downloading my photos from Friendster, so I have deleted the albums once I am done downloaded them to avoid confusion but there are some albums I have deleted without downloading them thinking that I have a soft copy in my computer, especially those photo taken here in Korea and few photos taken on our wedding day which is not too clear as they are taken by a not so good phone but the fact that is memories it is very important.
[Photo courtesy of geralt/pixabay.com]
So I look to my folders and I can't find copy of those photos, it feels like I wanna pull my hair.  I am so darn dork and last night too I am looking for my the word document of my Anything and Everything blog as I copy them online then all of sudden I can't find them then I remember I have deleted few files the other day to free space and I can't remember if they are included, I am really disturbed last night that I don't want to go to sleep, as I am adding those blogs to my other blogs. You know I got another idea, that is to scheduled post. Yeah, my blog post are scheduled except in this one of course.,
In my age of 24 I already have memory loss how much more when I am already in my thirties, huhuhu. Darn I guess I need to eat a lot of clams and shells to help me gain memory. Oh well, I have find the word document because the moment I wake up I started browsing all my folders but the fact that my  photos are still missing in action makes me say "Ihhhhh" so angry. I have mailed the box to Philippines today with the help of Pookie bear as I can't carry it alone, and another memory loss occurred.  On the box I wrote our address without the Province name as I forgot about it  I just noticed it when I check it, but I can't add it as there's no more space and today in the postal office, I forgot to write our city's name on the paper.  Lol!
By the way, I am little sick right now, it looks like the big bear transfer his colds to me. He is so happy that he is feeling well and keep telling how he feels good right now. Lol!
I am not in control anymore. Joke. What I mean my schedule is mixed up already, I have been busy this past few days that I cannot visit and left comment to the blogs I usually visit. As of today I have a rest day but tomorrow we are going back to Seoul again to visit a doctor to ask for a prescription for malaria as preparation for our travel in Bangladesh then two days rest and on Tuesday I am going to return to Seoul to pick-up our passport in the embassy. What a busy day, I'll be thankful if I will not travel so long but it seems hard to grant this wish. The only thing I am thankful for these busy days is I cannot attend the gym, I am already tired working out I hate my myself every time I look in the mirror and I see my big arms and broad shoulders. I look like a wrestler now, packed with muscles. I hate it! I really hate it , my arms and shoulders is not the one it used to be. I keep whining to Pookie bear about it, but he just keep saying he likes it and asking me if who am I going to impress why I don't like it. That's not the case but I am woman not a man (huhuhu). I try to wear the clothes I bough with Emelyn in Seoul, the long sleeve which is turtle neck shirt. It is just a waste of money when I look on my reflection in the mirror I look like a ginger or taro. I am depressed especially I had stretch marks on my leg by doing leg exercises, leg curls and all leg exercises. My long thin legs already looks like crispy pata. Then I gain weight but the way I look in the mirror I am not fat, Pookie bear says maybe because I gained muscle that's why my weight goes up to 54, Ihhhhhh…yeah you heard it right 54…the 47-49 weight is already history. No matter how I starved myself it won't changed a lot like 54.7 to 54.3 then 54.5 ..always with 54…one time it is 53.9 but when I ate 54 again. Signs of getting old? It says when you grow older you weigh higher, hope it is and not because I am a dabiana in the making.
Sign of aging, aching waist or just posing?
Here look at my big arms, proportion or not?
These photos are taken last Tuesday when I visited the Townsend's apartment.
I think this is how it works when you are married to a pro-wrestler, maybe Pookie bear thought I am his wrestling buddy.