There's an old belief that if you dream a poop it means MONEY, and it happened to me.  Last night or let me say this early morning while I am sleeping I have dreamed of poop, I just tell a brief story of it.  I dreamed of two young pipz, they look like my cousins in Germany but I am not too sure though because in my dream they are not my cousins but kids I need to take care,…the older one wants to use the toilet so I went out the building to give her privacy then after a while I saw her behind the glass looking sad and when I went in, all of her poop is scattered in the floor and in different trashcans in the corner, in my dreams she don't know how to use the toilet so she throw her poop in trashcans, and it leave marks in the shiny floor (like a foot prints), a lot of it.  So I told her we need to clean it before people came for a meeting, so I  mop it and some people rush in, I am not yet finished though I just finished the first room and a realization came the trashcan has a poop still then I wake up.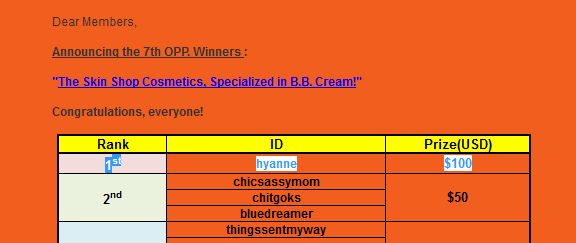 If you are a blogger and want to earn money by doing things you like, join PostnJoy.
When I wake up I lay down for a minute as I feel very tired which usually happened every time I had a dream, then I opened my email add which is I seldom do first because mostly I opened my click ads before looking at my inbox. What catch my attention is the mail from PostnJoy with subject [PostNjoy] Announcing 7th Opp. Winners~! so I immediately opened it first and guess what? I am so surprised and happy I won the 1st place and I can't believed it,  I won $100 just writing about Magic Science BBcream and my dream is indeed means money.  Thank you Lord for the blessings!