Food and Restaurants June 1st, 2011 | 7 Comments »
I am being pre-occupied these days, it looks like there are no days that I am feeling busy, I called it feeling because I don't know if it meet the standards of the word busy. Lol! I almost forgot it is Orange Tuesday yesterday, I am one day late again. Anyway here's my share, Catlaine bought this for me us when we visited National Museum Korea when we first meet alone, I mean just the two of us without the big bears. I could say it is the best tangerine chocolate I ever tasted, so yummy!
We went inside the souvenir shop, I bought a small notebook and she bought chocolates, four of this and she gave the two to me and the other two to her. Thanks again sis!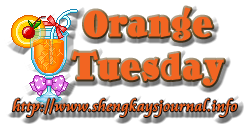 [ Tagged In ] Chocolates, Chocolates From Jeju, Jeju Chocolates, Korean Chocolates, Living in Icheon, Living in Korea, Living in South Korea, Seoul, South Korea