Home and Living, Home and Shopping October 29th, 2011 | 2 Comments »
It's not yet November but stores already displays a lot of loot for Pepero Day,  small and big pepero. I normally feel ashamed taking photos but this time I took my chance to take a snap and as what I am expected my husband walk away from me.  It looks like it is a crime to take photo ah, anyway he don't like it when I always snap here and there, he always said I am embarrassing him.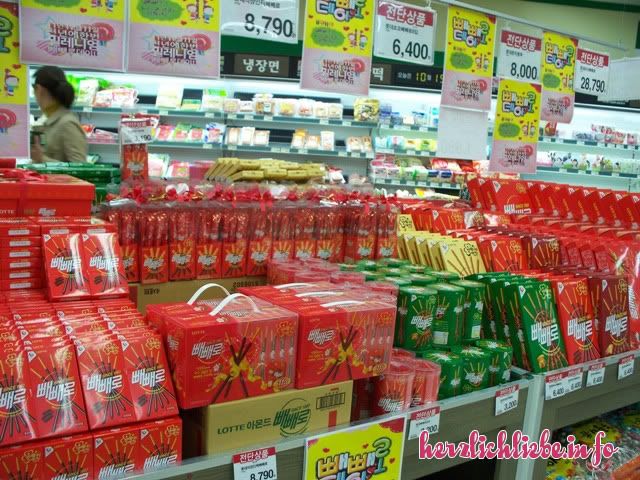 Pepero Day is an observance in South Korea similar to Valentine's Day. It is named after the Korean snack Pepero and held on November 11, since the date "11/11" resembles four sticks of Pepero. The holiday is observed mostly by young people and couples, who exchange Pepero sticks, other candies, and romantic gifts. Lotte denies starting the holiday and instead states that they noticed a bump in Pepero sales around November 11th and after continued popularity they decided to then encourage the holiday with special gift boxes and other promotions.Some consider it to be a contrived holiday and some teachers have encouraged children to exchange healthy snacks to help combat obesity. An alternative "Garaetteok Day" (sticks of white tteok) has been proposed.
[ Tagged In ] Buying Pepero, Expat Life, Expat Living, Happy Pepero Day, Icheon, Icheon Gyeonggi-do, Korean Food, Korean Supermarket, Living in Icheon Gyeonggi-do, Living in Korea, Living in South Korea, Pepero Chocolates, Pepero Day, Shopping