Adopting homeless and abandon cats from the street was already normal for me, for us. No matter how many times we promised and told ourselves not to pick homeless kittens again, we always brought home a new set of kittens from the street because we can't just simply ignore them, their scared little meow looking for someone who will give them warm, food and shelter right that moment.
Today, we have fourteen cats at home, including Monina's five little kittens. There should be more than this number if only all the kittens we picked from the street survive, but since maybe they were too little, still nursing and already sickly when we got them, they didn't able to live a healthy life no matter how I feed and cared for them.
Sanghwa: My gosh we are getting crowded…
Like most pet owners, our cats were like a family member to us. They don't eat spoiled food, they have their own food at home. My family often teased me that I spend too much on my little kids, they dubbed them as my kids because they tend to follow me around like little kids to their mamma's whenever I went out the house to go to the store or even simply going outside to throw some garbage they will be tailing me.
Jeong Woo: Cheer up Ryanne your dark circles will never go away, stop eating salty food look how your face is swollen today, wanna know my secret how to get whiter skin?
Every moment with them is memorable because just like dogs, they can vibrate and feel when you are happy or sad. They knew when to cheer you up, they can make you laugh with their playful antics and nature, they know how to amaze you by by twisting their body like a gymnast.
Dongsu: I'm sad too. Our pretty neighbor (cat) rejected me last night.
Most of the time they knew when to give you hug and warmth when they sleep beside you, and most importantly, they knew as well when to create steam in the top of your head by turning things upside down inside the house or eating your food on the table.
Dongsu: Hmm… what about me?
When you have cats you can't eat chips alone because they go crazy at the smell and the sound of a plastic. Yes, most cats are mischievous in nature, but they are one of the sweetest at times, the way they purred and wrapped their bodies around you or jump in your shoulders, the way they cries when they are hungry or had been banned inside the house for littering and soiling the rugs is priceless.
Gildong: Please let me in… I promised not to pee and litter inside the house anymore…
Let's meet our little fluffy friends and know the memorable moments that bring smile to our faces and create steam in the top of our heads at times?
They knew it is feeding time the moment they heard the sound of their dishes, give them food because if not suffer the consequences…
The older male cat in our house was named Dongsu from the Korean drama series Baek Dongsu, my sister and I rescued him from being trapped on top of the tree. We are busy fetching water when we heard a cat crying, it was scary at first because you can hear a cat crying but you can't find where it is coming from. #ghost
Dongsu is a very silent cat who loves to sleep, take selfies with me and pee anywhere inside our house in my mother's disgust and horror. He also loves to play and catch birds that's why he always volunteer to look after the grains, and after the young kittens.
Dongsu: Ikkk, I thought this is a look up pose or was it Walking Dead Pose?
Monina a female black cat from the town market; she is a street cat who's used to fighting with other cats for the sake of food. She is very competitive despite her inborn twisted left foot; she is a mischievous as well because of her background, she teaches the younger cats to steal food from our fridge, and to climb in our kitchen sink.
What's funny about her when you caught her stealing food, she will immediately run and dock her head down as if she was hiding from you. We have to put collars on her so our neighbors will know that she is a domestic cat and not a devil cat like how most people presumed when seeing a black cat around.
.
Monina is currently nursing five little kittens, four of them are male making the last one female.
Sanghwa is a calico kitten my mother and sister found in the middle of a busy street, they stopped to pick her and called out at the nearest house to inform that their kitten went outside and might be accidentally hit by vehicles, but the moment my mother put down the little cat in the ground, she runs back towards them so the owner just gave her to them.
Sanghwa, is a very sweet and loving kitty, she loves to fish out ice water in the tub, to clean herself and every kitty around her. She loves eating, she loves to chew food and to eat alone without another cat bothering her, she can eat boiled plantain banana and boiled sweet potato and she can even eat grass.
Jinja and Patpat were abandon in the street, going to town we saw them walking on the road side, but going home they were already in the middle of the road, so we stopped and the moment I went down the motorcycle to check on them they run towards me like they were happy that "mommy" is coming.
The more they get old the more they become playful and naughty;
Jinja loves to sleep in my foot at night, stole the food in our fridge, rubbed his head/body in our legs, he loves to follow everyone without his knowing that he can us make trip in the ground. When you look outside the window and he is around, he will quickly climb and cry blocking your view.
Compare to Jinja's mischievous behavior Patpat is a bit timid, but cries out loud, he loves to catch bugs and spider in the house and climb on trees which make me wonder sometimes if he is indeed a cat or bird. Patpat has the habit of turning our garbage can upside and down, chewing and eating the plastics, he also loves being petted by our duck and he loves doing yoga too, he is a healthy buff kitty if you may ask me.
Okneo, is Monina's only surviving adult kitty, she is the youngest and the frailest but she survived alone after one of her siblings died from being a victim of a hit and run, and the others went sick after catching colds.Her right eye is blind and the left eye is crossed-eye but her nose works well especially on finding food and petting the younger kittens.
Gildong, Jeong Woo and Rueh are three of the four white kitties we save from being abandoned. When scabies and mange became rampant among the dogs around the neighborhood, we found some of our cats having them as well since they love to play and roll outside. I treated them, they stopped itching, but then they get itchy again, it turns out I put too much salt on their food, I was told it wasn't healthy because they are too young so right now I cooked their food bluntly, it was just too sad Jeo Wook wasn't able to live long.
Do you love "Taking selfies with your fluffly friends? Which OPPO #SelfieExpert smartphone produces the best selfies?"
They are all lovable aren't they? I love taking selfies and playing goofy with them, but of course most of the time the photo quality isn't good because my kitties tend to move a lot making hard for the camera to focus on us and my phone camera failed to capture the right angle.
Getting the right angle and capturing a clear selfie photo is most pet owners wanted. Hear yeah! OPPO introduces a fantastic smartphone that produces the best selfies in the market today, it was no other than the OPPO F3 #SelfieExpert sporting a 13mp rear camera and dual front camera (16mp primary + 8mp secondary) with the touch-focus and face detection for clearer and better selfies. Finding the right angle was never been easier, but with OPPO F3 the hassle of getting a perfect shot is less of your worry. What is best about the secondary camera is, it is designed for wide-angle selfies, if you have a lot of fluffy friends you can be in one selfie photo together without the hassle of grouping them together.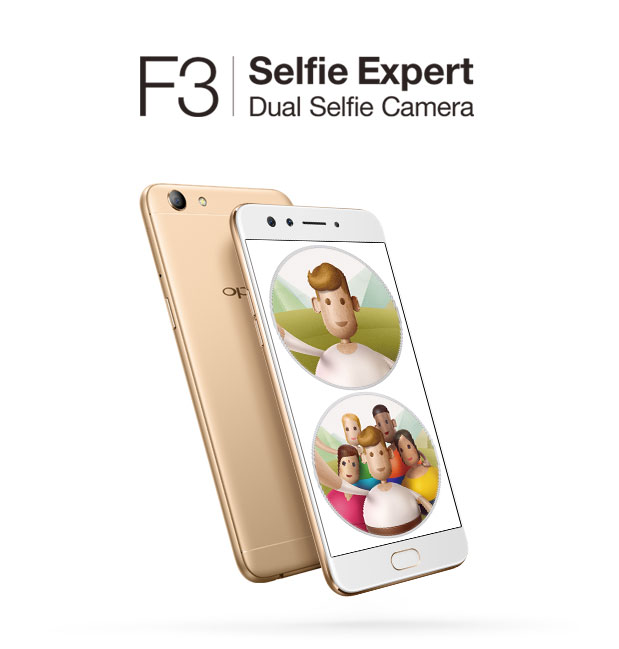 OPPO F3 is packed with special features like Geo-tagging, HDR, and panorama to make your photos more remarkable and memorable. It is also equipped with an internal storage of 64 gigabytes with 4 gigabytes RAM, which means you can take a lot of selfies with your fluffy friends and store a lot of photos of them without the hassle of lagging and hanging, if this space isn't enough you can expand your memory up to 128G micro SD card. This phone has also a remarkable long battery life (3200mAh) where you can take a lot of selfies and photos without worrying about your battery level.
Are you now getting excited to own OPPO F3? Read more details about this phone at www.oppo.com/ph/smartphone-f3