This is my own version of Afritada, if you have read my blog about the green peas that I bought for 5,000 won  instead  of 3,000 won this is how I cooked  it. As tomato ketchup is not present on our kitchen I just used fresh tomatoes we still have three pieces of tomatoes in the fridge that time.
Anyway this are my ingredients:
Meat (Pork), Potatoes, Green Peas, Tomatoes, Vineger, Salt, Water, Pepper, Onions and Garlic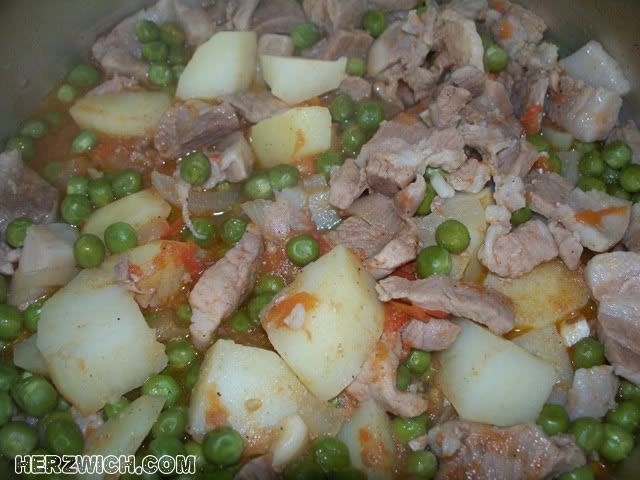 My Procedure:
 I first boiled the pork in  cup of water and vinegar then I removed the pork from the soup
In a clean pan/skillet I saute onion and garlic, when it is brown I added the sliced tomatoes
Afterwards when the tomatoes are partially cooked I added the pork, mixed it and cooked it for few minutes
Then I add the soup where I boiled the pork, I simmer for few minutes and I added more water
To taste I added salt and pepper
When it is starting to boil I add the green peas and lastly the potato and let it cooked until its ready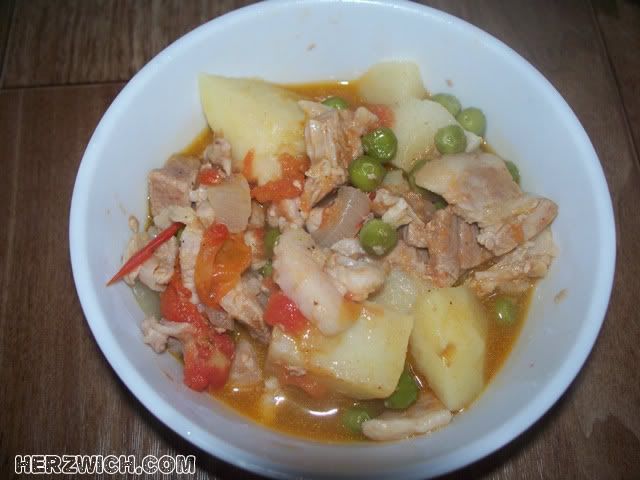 Well that's how I cooked my own version of Afritada though it looks like Mechado because of the green peas, haha. It is so yummy and I am craving for this food now. You should try to experiment in your food, on the available ingredients you have in your kitchen. You maybe never know what does it taste like unless you cook it.