Browsing Category: "Home and Living"
Life became so busy these past few days that I almost forgot I have blogs to manage, I almost lost my hosting a month ago and dunno if I can hold on to it this month, life became not so well these past few months.
It was not my norm to ask for help,  that even my coworkers have to remind me at times that I am not alone at work, I always try to fix and do things alone, and so if I did ask for help it means I badly need one.
Anyway, I have been busy establishing my presence as digital creator on Facebook. but it was still a long way to go, because I need 60,000 minutes view to be accepted in stream ads, I have been creating reels and doing some live streaming to get it, but I am not yet halfway there. It was a good thing some friends and coworkers were helping me by sponsoring small prizes for games during live, they said they enjoyed listening to me, doing all the talking. LOL
Blogging dies when vlogging became a new trend so should I just move on and throw my years of writing away?
Well, as I have mentioned in my previous post, the Kanidugan Festival was moved to the 10th of April to give way or to respect the holy week. We were requested to join the town parade for a small compensation, the town parade started at eight o'clock in the morning it was epic actually because when we arrived the street was already closed, so we had no choice but to walk to the assembly area and it was just right on time that when I arrived at the elementary school, the parade was just about to start. I wasn't able to find my coworkers, so I joined with the LGU family whom I am friends with, and when we went out, I found my co-workers standing in the corner so I  left the line, and joined them.
Anyway, the parade was spearheaded by the municipal officials, followed by the municipal employees, It was actually kind of boring to just walk, so I created my own world and my own dance steps, haha. I asked my workmates to dance with me, but they were kind of shy to do it, so I had to do it alone until I went up front and met the employees from MS who were I think also bored walking and they were dancing in their own way while complaining that the drum beats were too sad to follow.
It was fun being included in the parade, but it was quite boring because you couldn't see and enjoy the Kanidugan Festival, especially the street dancing. I decided to go on Facebook live, showing what is happening around me, and talking to my workmates and even to my viewers, and with that, I wasn't able to take a lot of pictures.
The town parade took longer than expected, because of the street dancing, we had to stop many times to wait for them, When we were almost near the starting point, I walked back to find my batchmates, who were at the end of the parade, it was a bad decision because they are that quite far and it would be a better decision if I waited until we reached the endpoint.
Well, when I arrived at my batchmate's location they were already planning to leave the parade because it was almost ten o'clock in the morning and our reunion program would soon start, so when we reached a certain point, we exited.
The town fiesta celebration or the Kanidugan Festival this year was moved to April 10, to make way for the holy week, but the celebration started already on April 1 through the opening of the Agri Trade Fair and Agency night in the evening, followed by the Barangay Night and the finals of Odiongan Got a Talent on April 2.
[Photo grabbed @ Odiongan Public Information Office]
On April 3, there was a Paraw Regatta and Asi Poem and Song Contest on the coast of Tabing-Dagat, but unfortunately, I was not able to see it, because we worked and were busy preparing the Odiongan Plaza for the Batch Night.  VM was the organizer, so the Legislative was in charge of everything, it took us one whole day to prepare and arrange the tables and chairs, because of many changes.  It was almost six in the evening when I decided to go home and prepare for the evening, We were requested to attend and help and I was designated to be one of the usherettes of the event.
I wasn't able to eat dinner anymore, because when I went home I immediately did the household chores, fed my cats, and took a bath. When, I checked my phone a co-worker was already looking for us, usherettes, because people were already arriving, so I immediately asked my sister to transport me to town.
[Photo grabbed @ Odiongan Public Information Office]
The event was jumped-packed, it was full of people. It was actually tiring ushering people to their tables and friends, especially since some visitors didn't want to do the shortcut because they were too shy to pass by other batches or tables, and I had to walk a longer distance so I could bring them to their table, and whenever I have a chance I visited the table of my own batchmates, sit there for few minutes, took pictures and move back to the gate to guide new people.
The main attraction of the event was the performance of four different bands, It was a night full of fun and laughter, seeing each other brought back old memories, and I felt busy and happy seeing old classmates, I forgot to take pictures of the said event, haha.
Friendship is important because it helps us connect with people who share our values or interests. I have this one friend (M) from high school, we are close to the extent that she took the same course as me at college. We both have the same scholarship, you can't see us apart, we eat lunch together, we study together and we take the same route home, and when we are a little short of our allowance we walk home, even if we are both wearing heels.
She had already maybe my best friend, I can tell her my problems at home, my crushes back then, and everything that is disturbing me. We are close since we have been together since high school, but not too close because we do still have other friends in the group. We grew apart, right after college graduation, She got married and had one child, and she withdrew herself from society and so did I. We lost contact and don't communicate often, There's Facebook, but the internet in the Philippines wasn't that good at that time. Maybe because we have both been busy with our lives, we forget our friendship existed.
For me, my friends are for a lifetime, but I am the kind of person who if you don't initiate contact or talk with me, I will not either. Chatting was too burdensome for me unless I enjoyed what we were talking about or liked talking to you. Some of my friends can attest to that because it comes to a point where they have to tag me, so I will be notified and participate in the conversation.  A work friend complained once, that I responded so late because she would chat in the morning, I replied at night time already, LOL.
Anyway, four months ago a high school classmate, messaged me about a letter circulating in their barangay, apparently A friend's aunt is doing a fund raising for my friend (M), The content of the letter shocked me and I was in disbelief and I immediately messaged my friend M, if it is true.  She said yes, they were fundraising, but she didn't elaborate on the results and she even almost denied having a grave illness, She just told us, she is sick and on medication, She said she is doing better, and the medicines she is taking are effective. As a friend, I shared her situation with some of my other friends and our classmates, We helped her in our little way and then life became so busy, Four months passed the biggest shock of my life came when her husband changed his profile picture and condolences and sympathy flooded in his wall. I panicked and was in disbelief, I immediately contacted her husband, what happened and how's my friend doing, The biggest heartbreak this year almost made me weak.
My friend (M) died, she succumbed to her illness. She lies to everyone, she keeps her illness to herself, to her family. She hid it so well, that we know nothing. It was painful, guilt and regrets wrapped me up, I was like a robot, functioning but with no feelings, or I functioned but not so well, it was too heavy to carry, I would like to cry, but no tears are running down from my eyes.  Lightheaded, I immediately told our friends and classmates in high school and college what happened to M., They were sad too and almost in disbelief because they also thought she was doing well like she portrayed she was,  We raised funds and I asked those who message me personally to extend help if they can, because M's family is financially exhausted, good thing the response was positive.
At work, I became so silent which is unusual for everyone, They tried to cheer me up and even some of my other friends tried to make me laugh, One of our bosses sent a stolen photo of someone in my inbox, for me to smile and be happy.  It was, actually, a friend and workmate's birthday that day, It was a happy occasion, but it wasn't for me. There was no way for me to celebrate when I was sad and in grief, later that afternoon she invited us to go out, as one of our bosses wanted to treat her somewhere nice, I went with them, because I would like to breathe and to forget my grief. It helps, was able to feel a little bit better and was able to breathe from my sadness.
Anyway, are you going to believe me if I say, I think I already feel something is wrong with my friend? I initially wanted to share our picture taken in Baguio, but I didn't because my immediate bosses were going to Baguio and I thought they might think I was trying to show off, that I had been there too.  For two nights before she died, I think she visited me too, and I never told this to anyone, because I don\'t want to be judged and called weird, but the night before when the lights were already off I saw a white silhouette of a woman in our room, just in the foot of my bed, her hair was a bit curl, she is healthy looking and her aura isn't that scary, I look at her without even a thought who she was, it was only when my friend died that I realized, maybe it was her who visited me at home to say goodbye since we didn't even see each other for a long time, we went to his father's funeral last year, but she wasn't around, or maybe she hid from us.
Good friends relieve stress, provide comfort and joy, and prevent loneliness, but I think I wasn't a good friend at all. I wasn't able to give those to her while she was sick and dying, wasn't able to give her love, time, and effort. She hid her illness very well, she was already given a few months to live, yet she didn't tell us, She said she was okay and getting stronger, she was already bedridden, but she said, she could already walk and do small things.
Some of our friends told me to let go that maybe our friend (M), wanted it to be like that, she didn't want us to be sad and don\'t want us to cry, They said I should be happy because our friend (M) was already free from her sickness, she was already happy in heaven. Shall I do that?
Drinking is not bad if it is occasionally done, but if you are doing it every night, it isn't healthy anymore. Some men transform when they are drunk, they hurt their wives and kids, and they say hurtful things, that cannot be forgotten by a young mind. Please remember, drinking doesn't only ruin your body, but it can also ruin your family.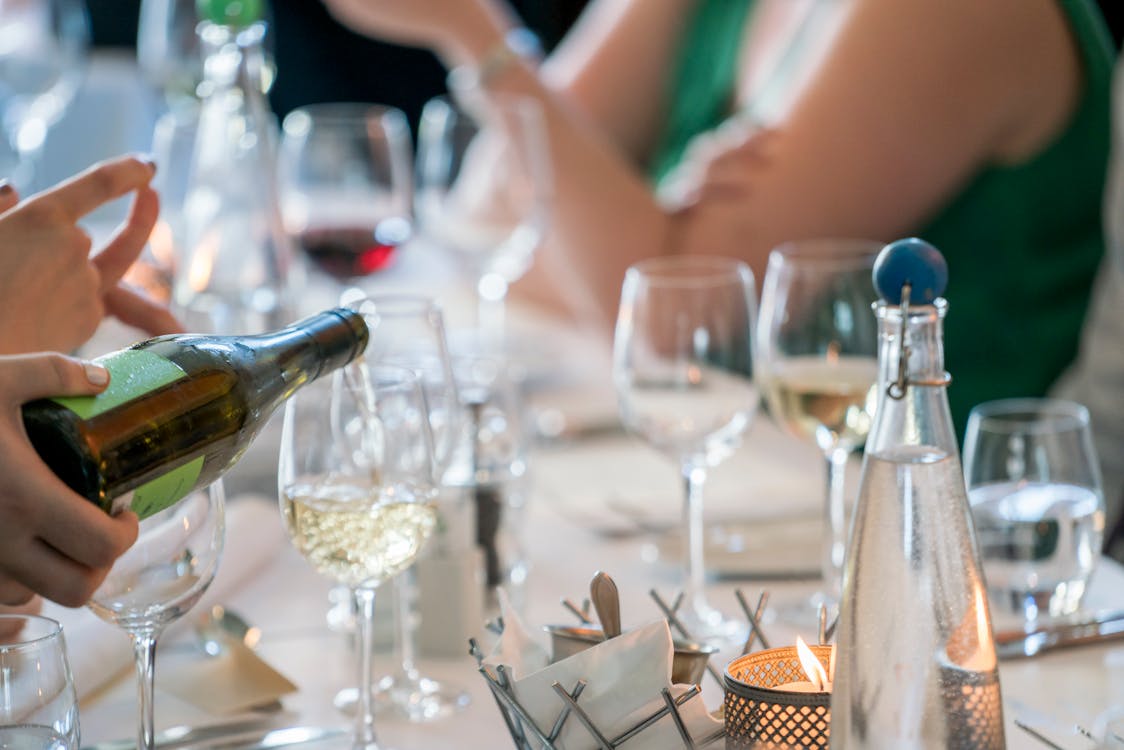 [Photo courtesy of Terje Sollie/pexels.com]
Always keep in mind that in the end, it is your family who will suffer. Do you think your drinking buddies will take care of you if you get sick and hospitalized? Are they gonna help you feel the pain you are experiencing if you get sick? The answer is NO. They might even laugh at you for being weak and vulnerable and worse maybe they can't even visit you in the hospital eh?
So please, don't drink if you don't know how to control it. Love your life, love your family. Value your friends, but value your family more.